About Department
The department of Civil Engineering ensures that the Students have the opportunity to work with latest equipment both in the laboratories and while on project with various construction companies in and around the city. Universal Testing machines, UV Spectrophotometer, 200 T Compressive Testing Machine,Constant heat B. O. D. Incubators are few instruments that students regularly use during their sessions.Fields in which the faculty is specialized are Structural Engineering, Earthquake Engineering, Fracture Mechanics, Hydrology, Water Resources, Foundation Engineering, Construction Management, Entrepreneurship etc. The college also undertakes projects and material testing in its specialized labs for various organizations working locally. Besides this the department has God's hand on its head. The campus of the college has been naturally gifted with a panoramic view of hillock near the boys hostel which provides a extremely useful site for a field survey.
Special visits are arranged to actual construction sites for practical acquaintance of students like Ghatghar Power Project, Ahmednagar, Narmada Nigam project, Ukai Dam, Surat Railway Workshop at Bhusaval, Priestesses factory at Nandgaon, Airport at Shirpur etc. A visit to the constructional site of the newly made Mumbai-Puna express highway had also been recently made.
VISION
To develop human skills which will be universally accepted and Civil Engineers who will help in the social, cultural and economical development of the society
MISSION:
Our mission is to provide quality Engineering programmes to provide technical support to Construction Industry for community development.
To provide quality education at affordable cost, with best possible standards.
To undertake Research and Development activities in Civil Engineering.
To develop human skills for the betterment of individual and society.
HoD Message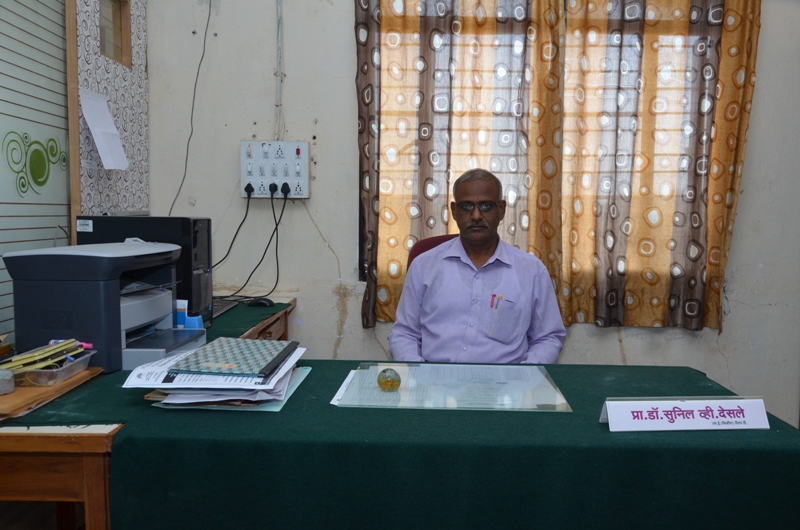 Dr. Sunil V. Desale
Head, Department of Civil Engineering
PhD(Civil) ME(Civil)
Dear All,
The field of Civil Engineering today requires a great deal of knowledge which include the technicalities involved in the field as well general knowledge about the structural development, changes in the environment and its effect on nature and also the current environment scenario for the future development of the society in which we live. All Civil Engineers should keep themselves abreast with this knowledge and create a society which helps in the overall developing of the world and at the same time reduce further degradation of the environment. Also teachers and students should together create awareness among themselves as well as other people regarding social as well as environmental issues.
The desire to achieve and gain is natural but it should be accompanied by the want of betterment of the society and people around us and their development. The approach in life need to be higher, generous, and shall consider the benefit of all.
Wish all faculties and staff shall have their contribution in shaping the engineers of the future.
Best Wishes to All.
Civil Engineering Gallery